Rudolph the Red-Nosed Reindeer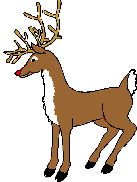 In 1939, Robert May, a copywriter for Montgomery Ward in Chicago, was asked to write a Christmas story that could be given away to all their customer's children as they visited the store Santa Claus. He started working on the story but found it difficult to concentrate on his writing. His mind kept wandering to his cancer-stricken wife and his four-year-old daughter, Barbara, who did not understand why Mommy could not play and go places with her. He also thought of his own childhood where other children made fun of him because he was tall and thin and the youngest in his class at school. Then he decided to write a story to comfort Barbara and all the other children who felt left out and different from their peers, a story with an unhappy beginning and a triumphant ending with an underdog for the main character.
Since his boss said the story should be about an animal, Robert thought that there was no better Christmas animal than the reindeer. After all what animal did more to help Santa make his yearly ride, but this reindeer had to be different. Santa would need a reindeer that was strong, fast, and able to fly in terrible weather. Giving him the ability to see in the dark would not make him different from his fellow reindeer so May decided to give him a big red shiny nose to shine in the dark and light the way for Santa.
When the story was finished, May read the story to his little girl and her friends. It began, "Twas the day before Christmas, and all through the hills, the reindeer were playing...enjoying the spills of skating and coasting, and climbing the willows...and hop-scotch and leap-frog (protected by pillows)." They and millions of other children loved the new Christmas story. Over 2 1/2 million copies were given out to the children during the 1939 Christmas season; and after World War II over 3 million more copies were give away.
In 1949, Robert's brother-in-law,Johnny Marks, wrote the song "Rudolph the Red-Nosed Reindeer" based on the story. Gene Autry recorded the song, and by 1950 the song was the most popular Christmas song on the radio. For children of all ages the story of Rudolph still brings a special feeling of good cheer all because Robert May remembered how it felt to be different.